My current clamp racks are simple L-shaped assemblies consisting of a vertical 1x4 and a horizontal 2x4 (see
Photo 1
). They're crude, and they're unlovely; but they took only minutes to build, and have been functional enough over the last three years.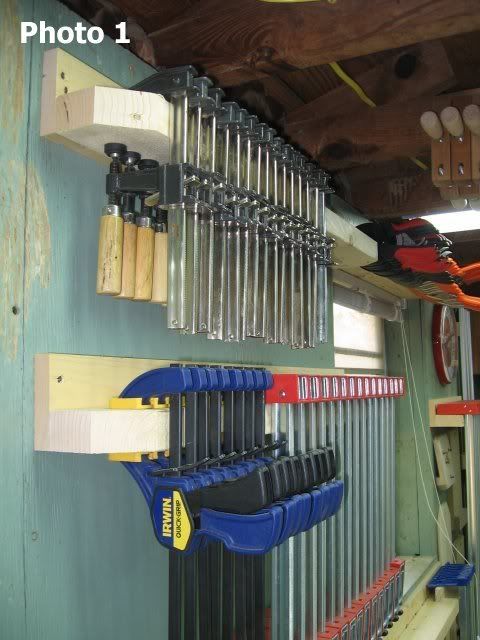 The only real problem with these is that the cantilevered 2x4 tends to roll downward under the weight of the clamps. This is especially true on the longer racks that are supporting heavy Bessey K-Bodies. No clamp has ever slid off onto the floor, but when moving past the racks it has become all too easy to knock the clamps askew.
Another problem, unrelated to the racks themselves, was that my both my old and new shop spaces did not offer enough handy places to put stuff down when working at my assembly table, near which my clamp racks are located. Things like glue bottles and hand tools tended to end up on the assembly table itself, cluttering up the works and always getting in the way.
Photo 2
shows the rough prototype for some new clamp racks which will address both problems. The new design will break the long, continuous, cantilevered racks down into sections about 24" long, with triangular end plates to support the clamp shelf.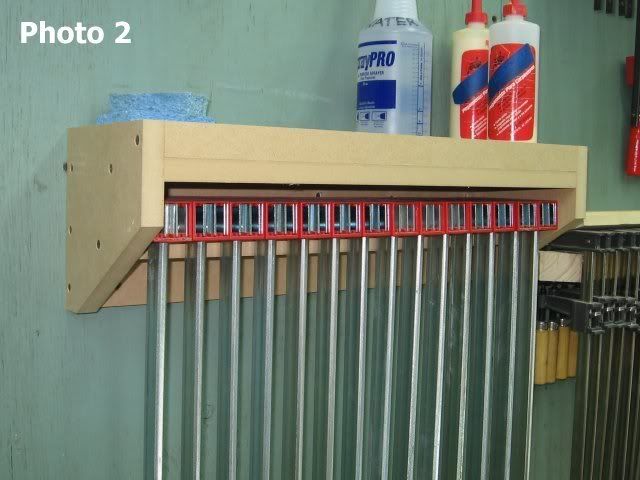 Above the clamp shelf is a 7" wide upper shelf to hold the items I need while working at the assembly table (see
Photo 3
). A curb around the three open sides keeps everything corralled.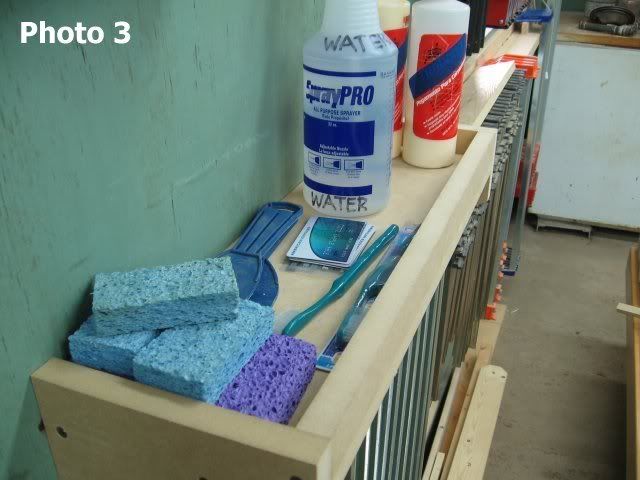 I have the prototype temporarily mounted on the wall and loaded with my 25" K-Bodies (see
Photo 4
). I'll leave it there for the next few weeks. The object is to determine whether the 3/4" thick clamp shelf will need a face frame on its front edge to keep it from sagging excessively. Most likely, it will not; although the prototype is constructed of MDF, I plan to make the final versions out of hardwood or Baltic birch plywood, either of which will be more rigid that the somewhat soft MDF.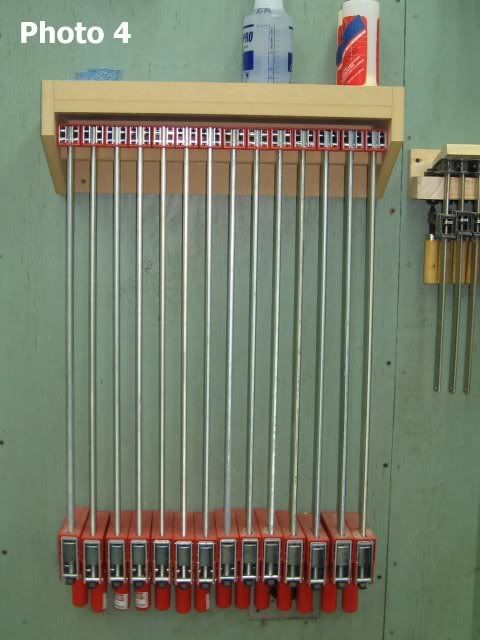 This is a work in progress, so I'll post additional pictures as needed. Thanks for looking!