---
6/24-6/28 Deal: Save 33% on the Rockler/Insty-Drive Self-Centering Bits, only $19.99 at Rockler.com
Creates perfectly centered pilot holes every time.
The Rockler Insty-Drive 3-Pc. Self-Centering Bit Set includes #4, #6 and #8 self-centering HSS drill bits that conveniently fit in heavy-duty nylon storage pouch. The Self-centering bits feature a hex collar that allows for use with the Rockler/Insty-Drive exclusive Insty-Driver. You'll get perfectly centered pilot holes for accurate hinge and hardware installation every time! Individual bits also sold separately. For larger architectural hardware, a #10 bit is available separately.
---
6/24-6/28 Deal: Save 20% on the LED Shop Light with Reflector Shroud 4400 Lumens, only $27.99 at Rockler.com
Incredibly bright, replaces any standard bare light bulb.
These incredibly bright, efficient lamps replace any standard bare light bulb-two options available, equivalent to up to three 100W incandescent bulbs! Here's an easy way to install a no-nonsense lighting solution in your shop, garage, closet or storage area. Just unscrew the standard bare bulb and screw this one in - it couldn't be any simpler. Choose from 2500- or 4400-lumen lights, equivalent to two or three 100W incandescent bulbs, respectively. It provides instant-on performance in cold weather (as low as -4°F), and you get the energy savings and longevity that has made LED lighting a top choice in the modern home.
---
7/1-7/5 Deal: Save $60 on the Vacuum Hose Reel, only $119.99 at Rockler.com: Code: AFTD51
Just pull out the hose to clean up - no need to drag along a clunky shop vacuum.
Paired with a hose of sufficient length, our Shop Vacuum Hose Reel brings the benefit of a central vacuum cleaner to your shop. Rather than dragging along a clunky shop vacuum that's constantly tipping or getting caught on obstacles, you simply leave the vacuum against the wall and reel out up to 40' of hose, enough to easily span a 2-car garage. As opposed to a vacuum, hoses easily snake around corners and through narrow spaces. They are lightweight and comfortable to handle. Using a stationary vac with a long hose also lets you integrate a dust separator into your system without having to pull the additional bulk around. When you're finished cleaning, just reel up the hose with the integral crank.
Features:
| | |
| --- | --- |
| • | Holds up to 40' of 1-1/2'' shop vacuum hose |
| • | Designed for standard 1-1/2'' hose, which accepts commonly available accessories |
| • | Tension knob is adjustable to keep the hose from uncoiling too easily |
| • | Sturdy steel frame is pre-drilled 16'' on center for mounting to two studs |
| • | May be installed with the crank oriented for either left- or right-handed users |
| • | Maximize performance with a dust separator without having to pull around the additional weight |
| • | Due to the length of the hose that this reel is designed for, your shop vacuum should have at least 4HP |
| • | The Shop Vacuum 1-1/2" hose will need a fitting on one end that is 2-1/4" OD. |
| • | Hose Port on the inside of the Hose Reel has a 2-1/4" ID. |
| • | The Hose Port on the outside of the Hose Reel has an OD of 2 1⁄2" and an ID of 2 1⁄4". |
---
7/1-7/5 Deal: Save 33% on the Rockler Drawer Slide Jig, only $19.99 at Rockler.com. Code: AFTD52
Install drawer slides quickly, accurately and more easily than ever with this innovative jig!
The Rockler Universal Drawer Slide Jig is the ultimate aid for installing drawer slides of almost any type, including ball-bearing or epoxy-coated side-mount slides and even center-mount slides! The jig features a locking wedge that holds the slide securely with no risk of slippage. Press the jig against the face of your cabinet and your slide is positioned perfectly level, with the proper setback. The jig can be clamped in place if desired, and it also features an adjustable rod that references off of the face frame rails or cabinet bottom for fast, repeatable height settings.
Features:
| | |
| --- | --- |
| • | Sliding wedge locks slide securely into the jig |
| • | Adjustable indexing foot allows perfect repeatability |
| • | Foot can be rotated for use on top or bottom |
| • | Cutouts in jig allow access for drill and driver bits |
| • | Large clamping area so jig can be clamped in place |
| • | Durable foamed nylon body with steel indexing rod and ABS foot |
| • | Indexing rod is stored onboard when not in use |
| • | Not compatible with Blum Tandem Drawer Slides. |
---
7/8-7/12 Deal: Save 20% on the Silicone Project Mat, only $23.99 at Rockler.com. Code: AFTD54
Features the same non-stick properties as our silicone glue tools - dried glue peels right off!
Our protective project mat is made from heat-resistant, easy-to-clean silicone, meaning wet glue rinses off and dried glue peels off. Use it anywhere you want to protect your work surface or your project, whether in the garage, shop or on the dining room table. Since it's heat-resistant, it works well as a protective barrier for hot glue guns. The material is very soft, and one side has a textured surface to trap debris that could scratch or dent your project. Also great for craft projects, art projects and scrapbooking.
Features:
| | |
| --- | --- |
| • | Silicone material is heat-resistant and easily cleaned - dried glue peels right off |
| • | Rolls up for easy storage |
| • | No memory - always lays flat when in use |
| • | Ribbed pattern on one face helps protect your project by trapping abrasive debris; opposite face is smooth |
| • | Note: Not for use with CA glue. |
---
7/8-7/12 Deal: Save $30 on the Rockler Finishing Sprayer, only $119.99 at Rockler.com. Code: AFTD53
Works with anything from lacquer to latex, with minimal overspray - features Earlex® HVLP technology.
Designed with simplicity and versatility in mind, the Rockler Finishing Sprayer is the ideal solution for anyone wanting a smooth, professional-quality finish in very little time. It is capable of applying anything from lacquer finishes, varnishes and urethanes to unthinned latex paints. Thanks to Earlex® high-volume, low-pressure technology (HVLP), it does so with minimal overspray. The spray pattern is adjustable from 1'' to 12'' wide so you can tailor the output to your needs. The 13' flexible hose provides enough length so you can move around your project, while the 1 qt. paint cup provides plenty of capacity without excessive weight. 1.5mm and 2.5mm needles are included, along with complete instructions for operation and cleaning.
Sprays a wide variety of finishes, including:
| | |
| --- | --- |
| • | Varnishes |
| • | Waterborne lacquer |
| • | Lacquers |
| • | Urethanes |
| • | Latex |
| • | Enamels |
| • | Stains |
| • | Water sealants |
| • | Wood treatments |
---
Bar Height Adirondack Chair
Adirondack Chairs are the perfect addition to any porch, patio, or backyard. This bar height Adirondack style chair is an alternative take on the classic low style. It shares similar design themes including slatted seats, a top curve to the back slats and a contoured seat profile. The seat is higher, making them a breeze to get in and out of without squatting or straining.
The Adirondack Chair Plan packages include:
| | |
| --- | --- |
| • | an exploded view of the project |
| • | a list of materials required to perform the build |
| • | a set of templates to trace the curved pieces |
| • | step-by-step instructions with photos to aid in the assembly process |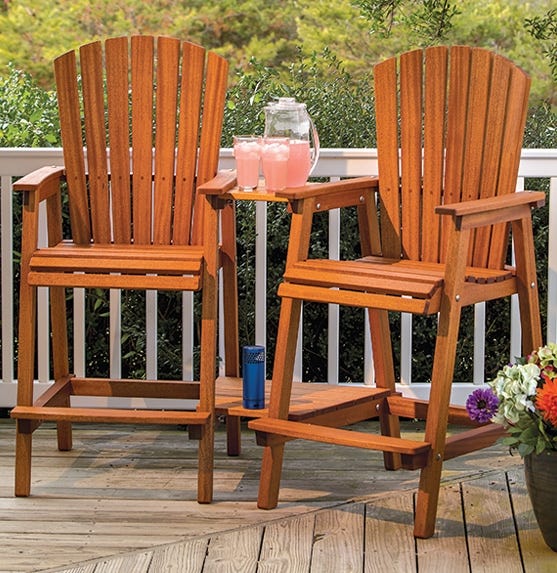 The SawdustZone Statistics
---
Topics: 59,711 Posts: 544,072 Members: 19,625 Active Members: 66
---
There are currently 561 users online. 3 members and 558 guests.
Most users ever online was 4,346 at 02:01 AM on 05-27-2015.