---
1/14-1/18 Deal: Save $40 on the Shop Vacuum Hose Reel, Only $139.99 at Rockler.com
Just pull out the hose to clean up - no need to drag along a clunky shop vacuum.
Paired with a hose of sufficient length, our Shop Vacuum Hose Reel brings the benefit of a central vacuum cleaner to your shop. Rather than dragging along a clunky shop vacuum that's constantly tipping or getting caught on obstacles, you simply leave the vacuum against the wall and reel out up to 40' of hose, enough to easily span a 2-car garage. As opposed to a vacuum, hoses easily snake around corners and through narrow spaces. They are lightweight and comfortable to handle. Using a stationary vac with a long hose also lets you integrate a dust separator into your system without having to pull the additional bulk around. When you're finished cleaning, just reel up the hose with the integral crank.
Features:
| | |
| --- | --- |
| • | Holds up to 40' of 1-1/2'' shop vacuum hose |
| • | Designed for standard 1-1/2'' hose, which accepts commonly available accessories |
| • | Tension knob is adjustable to keep the hose from uncoiling too easily |
| • | Sturdy steel frame is pre-drilled 16'' on center for mounting to two studs |
| • | May be installed with the crank oriented for either left- or right-handed users |
| • | Maximize performance with a dust separator without having to pull around the additional weight |
| • | Due to the length of the hose that this reel is designed for, your shop vacuum should have at least 4HP |
| • | The Shop Vacuum 1-1/2" hose will need a fitting on one end that is 2-1/4" OD. |
| • | Hose Port on the inside of the Hose Reel has a 2-1/4" ID. |
| • | The Hose Port on the outside of the Hose Reel has an OD of 2 1⁄2" and an ID of 2 1⁄4". |
---
1/21-1/25 Deal: Save 33% on Rockler Clamp-It Corner Clamping Jigs, Only $19.99 at Rockler.com
Firmly holds panels at a precise right angle, freeing up your hands so you can drive fasteners.
Struggling to hold cabinet parts in alignment while driving fasteners can be an exercise in frustration, and if you're using a nail gun, downright dangerous. The Rockler Clamp-It® Corner Clamping Jig eliminates that frustration by providing another set of ''hands'' to hold your parts together. It's used with the enormously popular Clamp-It® (#29190, sold separately) to hold panels at a precise right angle for fastening. Used in sets of four, the jigs are supportive enough to hold an entire case assembly as it is being assembled. The clamps have soft pads to prevent workpiece marring. Mounting holes in the jig allow for attachment to your work surface.
Features:
| | |
| --- | --- |
| • | Extra-wide base, high walls and strong Acme threaded clamp screw hold panels securely |
| • | Thick cushioned pads to prevent marring |
| • | Durable glass-filled polycarbonate construction |
| • | Mounting holes allow for attachment to work surface for creating assembly jigs |
| • | Jig holds panels exactly 3/4'' off the work surface so you can use scrap boards to support other corners if using only one jig at a time |
---
1/21-1/25 Deal: Save 40% on Bessey Variable Angle Strap Clamps, Only $26.99 at Rockler.com
Pulls from both ends of the strap to ensure even pressure - integral reel keeps the 1'' x 23' strap neatly stored.
Most strap clamps pull from only one end of strap, which can lead to unevenly distributed pressure and distortion of the workpiece. The BESSEY VAS-23+2K Strap Clamp, however, exerts force from both ends of the strap, ensuring even pressure and tight joints. An integral reel makes it easy to store the excess strap. The strap is woven from extremely durable high-tensile polyester, and is resistant to glue. For additional corner pieces, see our 6-Pack of Extra Strap Clips for the Bessey Variable Angle Strap Clamp (#33879, sold separately).
Features:
| | |
| --- | --- |
| • | Ideal for clamping round, angled or irregularly shaped objects |
| • | Strap is tensioned from both sides to ensure even pressure |
| • | Integral rewind mechanism quickly stores excess strap |
| • | Includes four adjustable pads that angle from 60° to 180° |
| • | Glue-resistant, tear-resistant polyester strap provides 1000 lbs. of tensile strength |
---
Modern Shelf Desk Project Plan
With adjustable shelving and modern styling, this desk is ideal for a dorm, small office, or apartment. It features Striplox connectors that make it easy to assemble. Just pick up a few key items from Rockler and you're ready to build.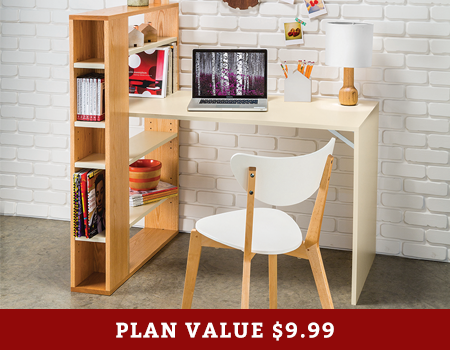 The SawdustZone Statistics
---
Topics: 59,599 Posts: 543,210 Members: 19,569 Active Members: 98
---
There are currently 367 users online. 3 members and 364 guests.
Most users ever online was 4,346 at 02:01 AM on 05-27-2015.