---
8/5-8/9 Deal: Save 40% on Large Rockler Bandy Clamps, only $14.99 at Rockler.com. Use code: AFTD61
One easy squeeze is all it takes to clamp a wide variety of edging profiles - smaller size is ideal for thinner stock and delicate moldings
You'll find it easier than ever to clamp edge moldings of almost any contour with our clever new Bandy Clamp™ edge clamps. The Bandy Clamp combines the easy one-handed operation of a spring clamp with the even pressure and no-mar qualities of a super-tough rubber band. Just open the clamp and stretch the band over your edging material - the deeper you set it, the tighter the pressure. Once the Bandy Clamp is in place, its jumbo ultra-grippy clamp pads simply will not slip, allowing all the clamping force to be transferred into the material. Since every contact point is a no-mar surface. the clamp is ideal for delicate moldings, even from soft materials like white pine. What's more, the clamp works great for keeping power cables, extension cords and pneumatic lines out of your way as you work. You'll find countless uses for it around the house as well as the shop!
Features:
| | |
| --- | --- |
| • | Proprietary rubber band is made from a tough, tear-resistant material, with three extra-strength splines molded into it |
| • | Large, ultra-grippy clamp pads hold tight without slipping |
| • | Pivoting jaws accommodate angled pieces and allow full pad contact regardless of stock thickness |
| • | To adjust tension, simply stretch the clamp further into the material |
| • | Easy cleanup - wood glue flakes right off the rubber band material |
| • | Rubber band conforms to any shape and will not mar delicate materials |
| • | Also works great for cord management tasks like storing extension cords |
| • | Spring clamp is made of high-strength nylon with fiberglass fill for added durability |
| • | Handles are over-molded with an easy-to-grip rubber for greater comfort and control |
---
8/5-8/9 Deal: Save $50 on the Rockler T-Track Table, only $199.99 at Rockler.com. Use Code: AFTD62
Versatile T-Track allows for fast, stable sawing, sanding, routing or assembly.
Considering the wide variety of T-Track accessories available, the utility of the Rockler T-Track Table Top is virtually limitless. Clamp objects at the edge of the table, in the center of the table and anywhere in between for fast, stable sawing, sanding, routing or assembly. Use it with any of our many T-Track Hold Downs, or with our Bench Cookie Work Grippers and the Bench Cookie T-Track Risers (#46311, sold separately). You can also use it with toggle clamps mounted on our Toggle Clamp Mounting Plates (#24872, sold separately). The spacious top measures 28" x 40", larger than most comparable tables. Mount it on a shop-built base, or on our 24"W x 36"L ShopStand (#48089, sold separately).
---
8/12-8/16 Deal: Save $60 on the Rockler Complete Dovetail Jig, only $119.99 at Rockler.com. Use Code: AFTD63
Our best and most versatile dovetail jig ever!
Cutting beautiful through and half-blind dovetails is fast and easy with our new and improved dovetail jig! Rockler's exclusive one-piece stop gives you the perfect offset every time for dead-on dovetailing accuracy. And our new preset template guide allows for quick initial setup for 1/2" to 3/4" thick stock. Jig will cut half-blind dovetailed joints from 1/2" to 1-1/8" thick and full through dovetails from 3/8" to 3/4" thick.
Features:
| | |
| --- | --- |
| • | Accommodates stock up to 11" wide |
| • | 8mm diameter bits are 25% larger than typical 1/4" bits, reduce chatter and fit all existing Rockler dovetail jigs |
| • | Preset template and fence locations clearly marked for standard thickness stock |
| • | Clamping bars include abrasive surface to grip stock and prevent slipping |
| • | Depth gauge on template for setting dovetail bit height for half-blind joints |
---
8/12-8/16 Deal: Save 25% on the Universal Small Port Hose Kit, only $29.99 at Rockler.com. Use code: AFTD64
Incredible expanding hose with flexible ports lets you use dust collection with nearly any handheld power tool.
Handheld power tools generate a lot of dust right where you least want it: directly under your nose. Unfortunately, the confusing array of non-standardized dust ports on handheld tools makes it hard to connect a dust hose - until now. This new kit from Rockler includes two sizes of flexible rubber dust ports - 1'', 1-1/2'' ID - that flex to fit on almost any tool, plus a 2-1/4'' port that connects to most shop vacuums, dust separators or our optional Cord and Hose Holder (#47321, sold separately). The two tool-end ports are thoughtfully designed with a slight elbow that helps lift the dust hose off of your work. All ports thread securely into the included premium ''stretch'' hose, which is a remarkable engineering feat in itself. This supple, agile hose expands from a mere 3' to nearly 15' long, and is a pleasure to work with, providing almost zero resistance as you move about your workspace.
Features:
| | |
| --- | --- |
| • | Winner of WOOD Magazine's Innov8 Award for 2015 |
| • | Ports flex to fit almost any handheld power tool with dust collection compatibility |
| • | Hose expands 5x the original length - from 3' to 15' - for a large working radius |
| • | Durable, flexible rubber hose is easy to manuever and manipulate, is kink- and crush-resistant, and has no memory |
| • | Ports swivel for free range of motion |
| • | Ports reverse thread into hose for a secure, leak-free connection |
---
8/19-8/23 Deal: Save $50 on the Excelsior Mini Lathe, only $249.99 at Rockler.com. Use code: AFTD65
With solid cast-iron construction, a robust 1/2 hp motor and a precision-machined live center, this little workhorse rivals features found in much larger lathes.
The Excelsior 5-Speed Mini Lathe can turn bowls of almost 10" in diameter and spindles up to 17-3/4" in length, making it perfect for chair legs, small table legs and an endless array of decorative turnings. A convenient door provides easy access to the belt, along with 5 different speeds: 760, 1100, 1600, 2200 and 3200 RPM. Cast-iron body provides mass for minimal vibration, stable turning and maximum durability.
Features:
| | |
| --- | --- |
| • | Spur center on headstock |
| • | Ball-bearing live center on tailstock |
| • | Heavy-duty knockout bar for spur center |
| • | Cam-locking ratcheting adjustment levers |
| • | Convenient belt access door |
| • | Chrome-plated hardware |
| • | Removable safety switch |
| • | Non-slip feet |
---
8/19-8/23 Deal: Save $10 on Drawer Front Clamps, only $29.99 at Rockler.com. Use code: AFTD66
These handy clamps hold drawer fronts firmly in position on the drawer box while you drive the screws.
Securing drawer fronts to their drawer boxes can be a challenge, but it's a challenge these clamps are more than up for. With their dual clamp heads and micro-adjustable stops, the Rockler Drawer Front Installation Clamps make getting perfect alignment a cinch. The thin frame profile allows you to close the drawer while the clamp is still on, making it easy to check your alignment with adjoining drawer faces. Once the micro-adjusters are set, you can work your way through a stack of drawers in no time flat. Simply clamp the front in position and use our Drawer Front Adjustment Screws (#34734, sold separately) to fasten it in place. Sold in left/right pairs. Only light clamping pressure is necessary.
---
8/26-8/30 Deal: Save $90 on a 3pc Mini Carbide Turning Tool, only $129.99 at Rockler.com. Use code: AFTD67
Comfortable rubber handles provide excellent control and reduce fatigue - replaceable carbide tips require no sharpening.
Shave costs with this 3-Piece Carbide Turning Tool Set. Each tool features a replaceable, rotatable cutter that eliminates the hassle and downtime of sharpening. Simply rotate the carbide cutter for a fresh, sharp edge, and replace it once all available edges have grown dull. The solid carbide cutting edges stay sharper, longer when compared to steel. The handles are turned from fine, solid ash, and are ergonomic with molded rubber that enhances your grip and reduces fatigue.
Diamond Carbide Mini Turning Tool is ideal for use as a parting tool, and for tight profiles. Overall length of the diamond cutter is 1-1/8''. Angle of diamond cutter is approximately 35 degrees.
Square Carbide Mini Turning Tool is ideal for flat or convex areas on spindles and pen turnings. Square cutter is 3/8'' square.
Round Carbide Mini Turning Tool is ideal for producing a smooth finish on curved, concave surfaces and for general turning applications. Diameter of the circular cutter is just under 1/2''.
---
8/26-8/30 Deal: Save 40% on the Rockler 4pc Router Table Accessory Kit, only $29.99 at Rockler.com. Use code: AFTD68
Get a cleaner shop and safer, more consistent routing with this convenient 4-piece accessory kit!
Our 4-Piece Router Table Accessory Kit includes an easy-mount dust port, plus three featherboards for more consistent cut quality and to help prevent kickback. Two of the featherboards mount to the fence, exerting pressure down toward the table, while the third mounts to the table and keeps your work against the fence.
Features:
| | |
| --- | --- |
| • | Dust port has a 2-1/2'' OD (2-1/4'' ID) hook-up |
| • | Table mounted featherboard which fits miter slot openings of 3/8" deep x 3/4" wide, can be secured anywhere along the miter track with the twist of the knob |
| • | Fence-mounted featherboards slip into the accessory T-track, and are easily adjustable without tools |
---
Tambour Console Cabinet Plan
Tambour doors are flexible sliding doors that are made from several slats called tambours. The tambour slats are attached to a piece of canvas. Tambour doors are often used on roll top desks, console cabinets, and kitchen appliance garage cabinets.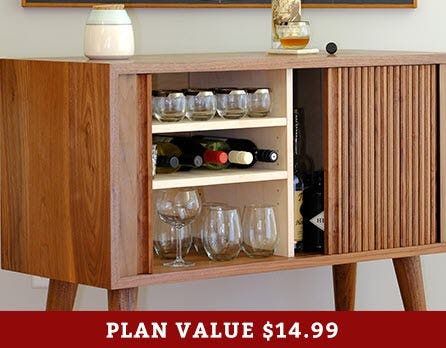 The SawdustZone Statistics
---
Topics: 59,724 Posts: 544,188 Members: 19,640 Active Members: 79
---
There are currently 460 users online. 2 members and 458 guests.
Most users ever online was 4,346 at 02:01 AM on 05-27-2015.