---
3/11-3/15 Deal: Save $90 on the Rockler 3-Piece Mini Carbide Turning Tool Set, Only $129.99 at Rockler.com
Comfortable rubber handles provide excellent control and reduce fatigue - replaceable carbide tips require no sharpening.
Shave costs with this 3-Piece Carbide Turning Tool Set. Each tool features a replaceable, rotatable cutter that eliminates the hassle and downtime of sharpening. Simply rotate the carbide cutter for a fresh, sharp edge, and replace it once all available edges have grown dull. The solid carbide cutting edges stay sharper, longer when compared to steel. The handles are turned from fine, solid ash, and are ergonomic with molded rubber that enhances your grip and reduces fatigue.
Diamond Carbide Mini Turning Tool is ideal for use as a parting tool, and for tight profiles. Overall length of the diamond cutter is 1-1/8''. Angle of diamond cutter is approximately 35 degrees.
Square Carbide Mini Turning Tool is ideal for flat or convex areas on spindles and pen turnings. Square cutter is 3/8'' square.
Round Carbide Mini Turning Tool is ideal for producing a smooth finish on curved, concave surfaces and for general turning applications. Diameter of the circular cutter is just under 1/2''.
---
3/11-3/15 Deal: Save 25% on the Rockler Power Tool Mobile Base Hardware, Only $59.99 at Rockler.com
With this hardware, you can build a mobile base of any size, in whatever dimensions you need.
This sturdy, affordable mobile base hardware allows you to build a base of any size by adding wood stretchers in whatever length you need. This adds up to big cost savings, especially when compared to large mobile bases that are ready-made. Just step on the generously-sized pedal and the mobile base raises the tool onto a single swivel caster. Tripod design allows for easy maneuverability.
---
3/18-3/22 Deal: Save $20 on the Jig It Deluxe Concealed Hinge Drilling System, Only $99.99 at Rockler.com
Allows precise, repeatable drilling of multiple hinge cup holes - no drill press required!
If you're drilling hinge cup holes for multiple doors of the same height, the JIG IT Deluxe Concealed Hinge Drilling System will save you loads of time. The system comes with a sturdy 36'' aluminum rail and two hinge cup drilling guides that slide along the rail to align with your hinge plates. Once set up, you can use the stop block against the top or bottom of each door to achieve identical results throughout any bank of cabinets. With no need for a drill press, you'll save both money and shop space. Each guide features an integral spring clamp that requires no adjustment, and holds the guide in place as you drill. The clamp also doubles as a foot that rests on your benchtop (or the floor) and provides firm support as you apply downward pressure with the drill bit. To support the outer edge of the door, simply use scrap blocks or Bench Cookies (sold separately). A long shank Forstner bit (sold separately) to match your hinge cup size is required to use the jig. Carbide bits are recommended. For fast and accurate installation of the cabinet plates from two-part Euro-style hinges, check out Rockler's lineup of JIG IT® Hinge Plate Templates. Available for many hinges, they make it easy to drill precisely spaced mounting holes in the cabinet. For tall doors requiring three hinges, an additional Concealed Hinge Drilling Guide (56778) can be purchased separately and added to the rail.
Features:
| | |
| --- | --- |
| • | 3/4'' square aluminum guide rail, and a material stop for precise, repeatable results |
| • | For very tall doors, simply rip a 3/4'' x 3/4'' stick in whatever length is needed, or purchase a length of standard 3/4'' square aluminum extrusion |
| • | Makes an ideal hinge cup drilling solution for small shops, or for jobsite work |
| • | Template guides are solid steel for durability |
| • | Templates are secured in place with sturdy metal threaded holes |
| • | Integral clamps attach guides securely to your door |
| • | Clamps double as feet, providing firm support as you drill |
| • | Use scrap blocks or Bench Cookies to support outer edge |
| • | Center line perfectly positions the template |
| • | Offsets are adjustable for both face frame and frameless construction |
| • | Template bases have non-marring bottoms |
---
3/18-3/22 Deal: Save $40 on the Dust Right Downdraft Table, Only $139.99 at Rockler.com
Gentle downward air flow draws most of the dust away from your workpiece and out of the air. It's sides and back can be raised to assist in containing dust, or lowered/removed to accommodate larger workpieces.
Orbital sanders stir up lots of fine dust, which tends to stay afloat and eventually settle on everything in your shop. That's where the Rockler Downdraft Table can be a huge windfall for the air quality in your shop. It generates just enough downward airflow to get the dust to drop down into the table and out the chute to your dust collector. Its sides and back can be raised to assist in containing dust, or lowered/removed to accommodate larger workpieces. Internal baffles efficiently direct dust toward the 4'' port. When not in use, the unit can be easily hung on the wall of your shop using the keyhole slots. The panels are removable and tuck neatly inside the unit during storage.
Features:
| | |
| --- | --- |
| • | Its sides and back can be raised to assist in containing dust, or lowered/removed to accommodate larger workpieces. |
| • | Grid of rubber grommets supports your work without risk of marring |
| • | Orange stops fit into the grommets to hold your work in place while sanding |
| • | 16-1/2'' x 20'' working area with sides/back raised - lower or remove the sides and back for larger workpieces |
| • | 4'' dust port allows easy connection to your dust collector (sold separately, minimum 650 CFM recommended) |
| • | Sturdy metal construction with a durable powder-coat finish |
| • | Carrying handles for easy transport |
| • | Adjustable rubber feet provide a firm footing |
---
3/25-3/29 Deal: Save $40 on the Rockler Tablesaw Crosscut Sled, Only $129.99 on Rockler.com
Cut precise miters and crosscuts while enjoying a spacious smooth-sliding table and large-easy-to-read scale.
No more squinting at those tiny scales - this Crosscut Sled's large protractor scale lets you precisely tune your angles for air-tight miters and crosscuts. Easy-to-read 1/2° graduations and a hair-line indicator ensure error-free setups, while a heavy-duty aluminum fence, adjustable MDF fence face, and smooth-sliding components delivers versatile and precise operation. Optional Crosscut Sled Drop-Off Platform also available (sold separately)
Features:
| | |
| --- | --- |
| • | 1/2" thick 23-3/4" x 23-3/4" MDF table with melamine coating |
| • | Easy-to-read 1/2° graduations and a hair-line indicator ensure error-free setups |
| • | Extra material allows you to cut the sled down to fit your saw perfectly |
| • | Right edge of sled functions as a zero-clearance chip breaker |
| • | Includes four 2' pieces of 3/4" wide self-adhesive low-friction tape for smooth sliding of the platform and fence |
| • | MDF Fence face can be removed for replacement |
| • | Spring-loaded ball bearings in the miter bar have adjustable tension to eliminate slop |
| • | Adjustable 90° stop |
| • | Right edge of miter bar is 6" from right edge of un-cut platform |
---
3/25-3/29 Deal: Save 30% on the Rockler Taper/Straight Line Jig, Only $69.99 at Rockler.com
If you've ever struggled to make a lengthy angled cut, this is the jig for you!
With a simple indexed angle setting system, heavy duty hold-down clamps and a smooth sliding design, it makes tapered cuts fast, easy and more precise. Perfect for chair legs, table legs and more. Jig fits snug in any standard 3/8" x 3/4" miter slot and features a large, ergonomic handle for smooth push-action performance throughout the cut. Plus, with the miter bar removed it doubles as a stable straight line ripping jig.
Features:
| | |
| --- | --- |
| • | Includes 36" miter bar |
| • | Indexing marks make angle setting easy - each mark represents 1° of taper |
| • | Dual tape measures provide convenient reference and also help set angles |
| • | Two wide-body hold down clamps prevent stock from drifting dangerously from your fence |
| • | Clamps have non-marring rubber caps for enhanced grip |
| • | Three adhesive strips run across the jig to help stabilize your workpiece |
| • | With taper angle zeroed out, jig works great to rip straight edges on rough lumber |
---
Tool Chest Project
Make this two drawer modern tool chest that's perfect for organizing small tools, hardware, or parts, in your workshop or craft room. Customize the drawer organization to suit your needs with the Rockler Lock-Align Drawer Organizer System. The cabinet is constructed with plywood and stepped wood dowels. The drawer joinery is cut using the Rockler Drawer Lock router bit.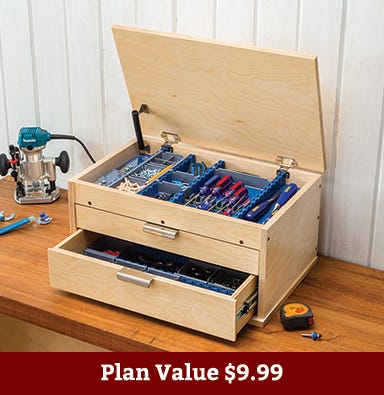 The SawdustZone Statistics
---
Topics: 59,638 Posts: 543,575 Members: 19,587 Active Members: 99
Welcome to our newest member,
DBC333
.
---
There are currently 508 users online. 2 members and 506 guests.
Most users ever online was 4,346 at 02:01 AM on 05-27-2015.